A GUIDE TO
Commercial Radio Journalism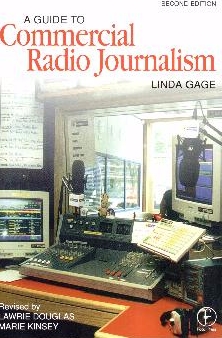 ISBN 0 240 51547 1
To order your copy, click here.

This book is essential reading for any journalist who works - or wishes to work - in radio. It covers every aspect of the profession, from journalistic practice to media law and gives detailed instruction on the techniques of editing and using equipment, and on the basic skills of writing, reporting and producing. A legal section outlines the pitfalls of libel and contempt and shows the main restrictions on reporting, particularly during elections. There is also a whole chapter dedicated to advice on court reporting.

Written from a practitioner's standpoint, this is the perfect handbook for anyone involved at any level in commercial or local radio. A classic training manual in the profession, the book was originally written by Linda Gage, former Head of Training at LBC. This edition has been fully revised and updated by Marie Kinsey, Head of Broadcast Journalism at the Northern Media School, Sheffield Hallam University, and Lawrie Douglas, a freelance producer, editor and trainer.

The techniques described in the book now cover the latest in commercial radio production and show how working practices have been affected by new technology including:

The book also includes:


John Perkins, Managing Director, IRN writes:
"Radio - BBC and commercial is a booming industry which attracts hundreds of aspiring journalists each year who want to get on the airwaves. Relatively few succeed and the difference between success and failure in most cases is an adequate understanding of exactly what the job entails.

Linda Gage's book is a valuable starting point for anyone who wants to make radio their career. It lays out in a practical and easy to understand way what it takes to make the grade as a good radio journalist - with the emphasis on the word 'good'. It is the sort of book I wish had been available when I started out in radio back in 1975 when you learned by your mistakes, which were often inflicted on the poor listener. Learning 'on the job' in this way may have been acceptable then but has no place in the sophisticated world of modern broadcasting.

Linda herself was a first class radio journalist who had the gift of passing on her knowledge of others. She was also an honest person, which is why this book pulls no punches and leaves the would-be radio journalist under no illusions as to what is required.

There are no signs of any slowdown in the number of new radio stations coming on air - just the opposite in fact - and there will therefore continue to be an increasing demand for journalists to produce the news and information which research consistently shows to be the most important ingredient in the radio mix. We should be grateful for this new edition of Linda's book, which will be required reading for many years to come."

---


The second edition of "A Guide to Commercial Radio Journalism" by Linda Gage is available direct from the Linda Gage Memorial Trust for £18.99 (inc. postage and packing).

Please send your order together with cheque/PO to:
Linda Gage Memorial Trust
82 Ardrossan Gardens, Worcester Park, Surrey, KT4 7AY.
(Cheques payable to LINDA GAGE MEMORIAL TRUST please)

---
GUIDE TO
Independent Radio Journalism
FIRST EDITION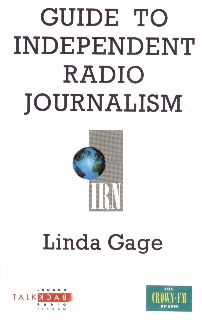 The first edition, now out of print.
The first edition of Linda Gage's book, "A Guide to Independent Radio Journalism" was published by Duckworth in 1990. This was at the time when she was Head of Training at LBC. It covered every aspect from journalistic practice to media law.

Detailed instruction is given on the technique of editing tape and using equipment, and on the basic skills of writing, reporting and producing. The legal section outlines the pitfalls of libel and contempt, showing the main restrictions on reporting, particularly during elections.

Written from a practitioner's standpoint, this is the perfect handbook for anyone involved at any level in commercial or local radio.

The Rt. Hon. Christopher Chataway, then Chairman of Crown Communications, wrote at the time:

"Linda Gage has proved herself to be an outstanding trainer of radio journalists. In this book she sets out succinctly and clearly the information and advice that will be needed by any aspiring radio reporter. As the radio industry expands in Britain more good journalists are going to be required. For almost every radio station an essential ingredient of success will be a fast, lively honest news service. Already there is a shortage of competent professionals. The standards of reporting and interviewing are distinctly uneven.

So this is a timely and important book. Having started my broadcasting life as an untrained newscaster and television reporter, I can recognise all sorts of mistakes that I might not have made had I been able to read this book. I have no doubt that it will prove invaluable to many radio journalists and that it will help create a standard of vigorous and respected radio reporting up and down the country".


See Also: