The Linda Gage Memorial Award
2001
For the fifth year running, entries were invited for short features which demonstrate entrant's production skills, The award is open to all those on recognised radio or media training courses. The judges are looking for an innovative piece of radio (a short feature up to 4 minutes in duration) that demonstrates production and presentation skills and which makes full creative use of the medium of sound. The judges assessed entries on the technical quality, editorial content and overall production.
This year's prize included a portable mini disc recorder, a place at the Radio Festival and a year's subscription to The RADIO Magazine.
The winning entry was submitted by Agnes Kruger, a radio student from Goldsmith College in S.E. London.
The award attracted entries from radio students from all parts of the United Kingdom. In making the award to Agnes Kruger, the judges commented that her entry "Bounce Control" was a good story about the sports bra, well told with a good variation of views. Technically it was very dynamic with good use of music. The production was very pacey. It had plenty of energy and humour but was free of clichés. It was well mixed with no presenter links. A montage that actually works. (Click here for the judges comments in full).
The award was presented to Agnes at the Radio Festival in Manchester on the 9th July.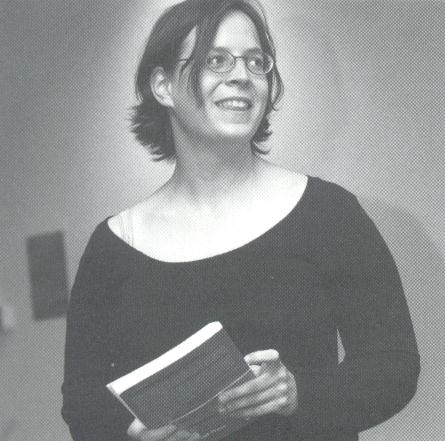 photo courtesy of the Radio Academy
The Linda Gage Memorial Award for 2001 was supported by Independent Radio News,
Broadcast Training Ltd, The Radio Magazine and the Radio Academy.