The Linda Gage Memorial Award
2000
For the fourth year running, entries were invited for short features which demonstrate entrant's production skills and was open to anyone who was either on a recognised training course or who had recently completed such a course. This year has seen a record number of entries from students at colleges and universities around the country.
The winner this year is Jenny Simmonds, a student at Farnborough College of Technology (Hampshire).
Her feature "Student Radio – Training Ground or Playground" was, in the opinion of the judges "very well mixed with good management of levels coming from various sources. There was excellent use of music and a strong variety of interviewees. The actuality was well recorded and mixed in. Editorially, it was very well put together, argued and delivered – a good script. Very good presentation as well." (Click here for the judges comments in full).
Jenny's prize is a portable mini disc with microphone, a years subscription to The Radio Magazine and a place at the Radio Festival in Glasgow.
The Linda Gage Memorial Award 2000 was supported by the Radio Academy, IRN, The Radio Magazine and Action for Airtime Ltd.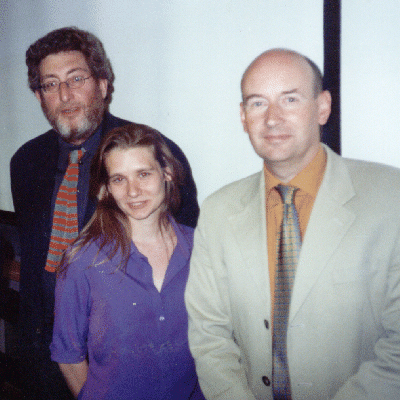 Jenny received her prize at the Radio Festival in Glasgow. Pictured with her are Larry Grant (Linda Gage's widower) and Bill Morris (Radio Academy Chairman).